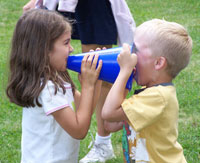 Announcements
STAY TUNED FOR UPCOMING EVENTS

---
SAMPLING OF PAST EVENTS BELOW
---
SUSTAINABLE FARE FOR SUSTAINABLE JERSEY
Farm to Table Fundraiser
Thursday, August 9, 2012 - 5pm
Terhune Orchards
Tickets $150

Terhune Orchards is delighted to host Sustainable Fare for Sustainable Jersey. A fundraiser to benefit Sustainable Jersey.
Local Chefs and farms will come together to celebrate the Farm to Table movement and promote awareness about sustainability efforts while raising money for Sustainable New Jersey's programs.
Guests will enjoy a five-course meal with wine pairing, cocktails, and music by the Riverside Band in the New Terhune Barn that was built by the Amish.
The following chefs have donated their time and talent for the event. Jim Weaver of Tre Piani, Scott Anderson of Elements, Chris Graciano of Witherspoon Grill, Edgar Urias of Blue Point Grill, and Chris Albrecht of Eno Terra, Gab Carbon and Matt Errico of the Bent Spoon are also participating.
Sustainable Jersey, a non-profit, runs a certification program that empowers towns to build a better world for present and future generations. More than 350 towns have registered to become a part of the program that was found by the New Jersey League of Municipalities, The College of New Jersey, the State of New Jersey and hundreds volunteers from around the state.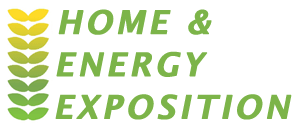 5th Annual HOME and ENERGY EXPO
The Transportation and Communication Issue
Saturday, March 17, 2012, 10-4 pm

Lawrence High School Commons
2525 Princeton Pike, Lawrenceville, NJ 08648
** Free admission and parking **

This event is focused on the practical application of sustainable concepts to improve the efficiency of homes and the exploration of alternative methods of transportation.
• An expo floor will house over 40 exhibitors demonstrating products and services available to residents of Lawrence Township and surrounding areas.
• See new electric vehicles and bikes at the parking lot exhibits.
• Gain practical insight from neighbors and hands-on demonstrations.
As in previous years, we will have vendors, seminars, presentations and workshops for all participants. Plus local food and a children's corner with games and projects they can take home.
The northeast has the most diverse mass transit and communications options in the country, nevertheless, we have found that people in our area spend almost half of their salaries in expenses for transportation and communication. We hope to bring alternatives, expertise and answers to some of the pressing questions regarding these issues. So save the date!
For more information, please contact the organizing committee:
Paula Waldron (609) 213-1327 paulapdub@optonline.net
Tahirih Smith (609) 731-1818 tahirih@sustainblelawrence.org
Sustainable Lawrence, the Lawrence Green Team and the Lawrence School District are sponsoring the Fifth Annual Home and Energy EXPO.

GREEN MAP WORKSHOP
Wednesday, January 25, 2012
7:00 – 9:00 pm Room #3
Mercer County Library at Rte 1 & Darrah Lane
2751 US Highway 1, Lawrence Township, NJ 08648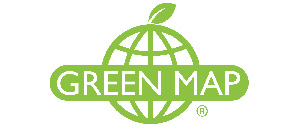 Come join your neighbors and friends to build this exciting new project! Come learn the ins and outs of uploading and plotting sites onto our interactive green map.
Along with the communities of Princeton, Montgomery and Hillsborough, we have won a grant to create a green map for our area. This map will plot the locations of our communities' natural resources, cultural and historic spots and sustainable projects; like open spaces, bike routes, green businesses, farms and local food, solar installations...and many more.
We will have a "big" map of Lawrence Township and will ask participants to plot their suggestions on this map. Then, we will have several computer savvy volunteers entering the data and uploading to the "live" map. Your ideas and input are necessary to make this project interactive and alive!
This project is sponsored by Sustainable Lawrence and the Lawrence Township Green Team.
Everyone is encouraged to take part! See you there!!
RSVP:
Tahirih Smith (609) 731-1818 tahirih@sustainablelawrence.org
Andy Link (609) 844-7087 alink@lawrencetwp.com
OCTOBER 2011
1st - 8:00 am to 2:00 pm - Hazardous Waste & Used Electronics Recycling
Place: John T. Dempster Fire School on Bakers Basin/Lawrence Station Road in Lawrence Township. For more information, call 609-278-8086 or go to www.mcia-nj.com. Rain or shine.
2nd - 12:30 pm to 4:00pm - Reduce, Reuse, Recycle, Re-think Event
Part of Lawrence Community Day in Village Park
Come to the Sustainable Lawrence's RE-Think! Corner and bring your unwanted items. We will be collecting used medical equipment, electronics, and lightly used household items. You'll have the opportunity to donate items and find that special item you were going to buy. Three tables will collect:
Electronics

Laptops, Monitors, CPUs, Cell Phones, TVs, DVD players, etc.

Used medical equipment

Wheelchairs, Walkers and walker baskets, Rollators, Seat cushions, Crutches, Canes, Hand and Ankle Weights, Special shoes, Unopened medical supplies (gauze, gloves, tape, bed underpads, adult diapers)

Freecycle stuff

Any good working item with a plug would be better off in use than in a landfill. Appliances, Furniture, Clothing, etc.


Lawrence Township residents can also bring material for shredding to the Yeger Drive parking lot in Village Park on Sunday October 2, 2011 from 11:00 am to 3:00 pm. Material for shredding cannot include cardboard or X-rays and cannot exceed 100 pounds. Click for flier.
Why Re-Think? Because we are reconsidering waste and reusing instead. Reuse is often confused with recycling, but they are really quite different. (Even those engaged in reuse frequently refer to it as recycling.) Reuse in the broadest sense means any activity that lengthens the life of an item. Recycling, on the other hand, is the reprocessing of an item into a new raw material for use in a new product–for example grinding the tire and incorporating it into a road-surfacing compound. Reuse is nothing new. What is new is the need to reuse.
We encourage our neighbors to reduce the amount of stuff that goes into our landfills, by sharing unwanted items. Every year, a community the size of ours fills up acres of garbage with things that are in reusable condition, just to head out to a store an buy more of the same. Help reduce waste by more than a landfill a day.
This event was sponsored by Sustainable Lawrence, Your Resource Inc., GEPNA, Lawrence Green Team, and was the last event in our Sustainable Living Series.
JULY 2011
Community Arts Sculpture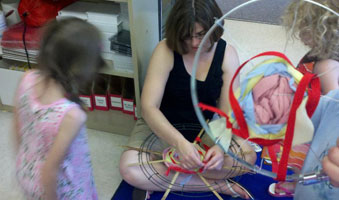 Residents and visitors to Lawrence were able to see the wonderful sculpture made with recycled materials. Jeanne Muzi and Toji Colavita worked with over 250 to create the sculpture that stood on the Municipal building lawn throught the Summer. Some called it "the fireworks" sculpture and others "the dream catchers". It was a beautiful community expression that welcomed all.
JUNE 2011
11th – Let's Move Lawrence - Ralph's Ride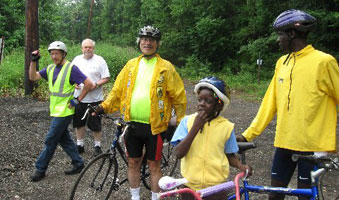 The 1st Let's Move Lawrence event was held on June 11th from 9 AM to 1 PM. The Lawrence Greenway started off at 9 AM with their annual hike. At 10 AM about 60 bicyclists & hikers converged for the dedication of the beautiful five mile run bridge on the Johnson Trolley line trail. Participants then had a choice of a 2 mile hike, an 8 mile bike ride into Ewing, or a 15 mile bike ride. Lawrence Township has an exceptional network of 14 major bike and walking paths with connections to trails in other townships. Each year a different section of this system will be highlighted.
Did you know that more than 20% of Lawrence Township is preserved land?
Did you know that we have a system of trails and greenways that traverses our town and connects us to other nearby towns?
Did you know that you can safely walk or ride your bike on these trails?
MAY 2011
7th - Mother Nature Festival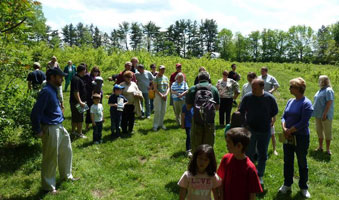 Visitors to the Lawrence Nature Center's Mother Nature Festival enjoyed guided nature hikes, a wildlife show, a tour of the meadow and exhibits set up by local groups, like the Garden Gate Garden Club, the Greater Eldridge Park Neighborhood Association (GEPNA) and Students Against Violating the Earth (SAVE). A bench sitting by the meadow was dedicated To Ralph Copleman, our founder and past Executive Director.
APRIL 2011
16th – 9:00 am to 2:15 pm - Our Future, Our Challenge - 2011 High School Eco-Conference
Place: Princeton Day School


Hear from world-renowned speakers on energy policy, new energy technology, sustainable food, and green building. Find volunteer and internship opportunities with environmental non-profits at our lunch fair. Cost: $12 includes a delicious lunch and admission to all speakers and events. Pre-registration required. Click here for more information (PDF).


---
April 10, 2011 - 10:00 am to 3:00 pm - Home & Energy Expo
New technologies, incentives and hands-on workshops. Lawrence High School, 2525 Princeton Pike, Lawrence Township, NJ.
Separating Fact from Fiction -Tips on Making Efficient and Sustainable Home Decisions

This year's Home & Energy Expo was the first in a series of 6 events designed to help Mercer County residents embrace the principles of sustainability with out compromise to aesthetics or function.
Participants learned how to reduce their energy and water consumption, evaluate renewable energy sources and purchase materials made from sustainable (natural and/or self-replenishing) sources. Over 40 exhibitors and speakers. Local services and professionals. Participants met neighbors who have done solar, geothermal, water heater and window efficiency projects and learned details of the process and how much they are saving!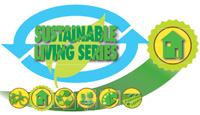 "In our sixth year, Sustainable Lawrence is expanding its grassroots, collaborative approach to become a clearinghouse for sustainability resources and a catalyst for projects that promote stewardship for our planet and a healthier life in our town. These programs and workshops will systematically increase our collective and individual knowledge and will provide the residents with the tools to spring into action. We are a diverse community and a community of doers, all we need is the know-how."
---
2010 EVENTS
Green Tie Gala Dinner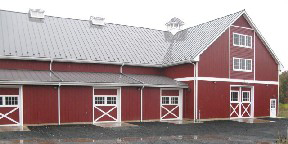 Date: Sat, Oct 30, 2010
Place: Terhune Orchards solared-powered barn
Admission: $75/person
Celebrating Sustainable Lawrwence.
In recognizing the contributions by everyone in our first five years, first Green Tie Gala raised over $15,000 for Sustainable Lawrence!
---
Summer Family Nights at Lawrence Nature Center in 2010
Date: Tuesdays at 7pm in July & August (rain or shine)
Place: Lawrence Nature Center at Drexel & Fernwood Avenues
Admission: Free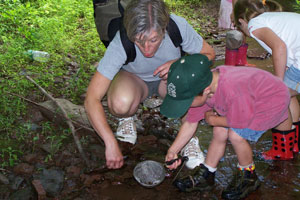 What Will Your Family Be Discovering This Summer?
Each week will provide a new and exciting opportunity for participants to learn about the plants and animals that live right out their back door. For more information including the weekly subjects see the flyer. Also for the kids, check out other upcoming activities.
The Lawrence Nature Center is located at the South end of Drexel Avenue in Lawrenceville. Take either Brearley Avenue or Fernwood Lane from Lawrence Road (Route 206). For more information, call the Lawrence Township Recreation Dept at 609-844-7067.

---
Earth Day Celebration 2010
Date: Saturday, April 24, 2010 from 1:00pm to 5:00pm
Place: The Lawrence Nature Center
Admission: FREE

Come and Discover the First Signs of Spring!
Guided Nature Hike * Wild Animal Show * Paint a Rain Barrel
Hands-on activities for Kids * Bluegrass & Jazz Music
Bring your galoshes and binoculars!
PRESENTATIONS:
1:00p "Guided hike" - with naturalist Rick Dutko
1:30p "The Story About Stuff" - movie
2:15p "Chimney Swift Bird Talk" - Eriks Svarcberg
2:30p "Sustainable Products"- Karen Nathan
3:00p "Wild Animal Show" - Diane Nickerson
3:45p "Non-point Pollution"- Girl Scout Lindsay Jorgensen
---
DAYS OF SPRING - March 20-28, 2010 - Various Locations


GREEN EVERYTHING! Expo
Saturday, March 20, James Kerney Center, Trenton, 10-4;
Exhibits and presentations on all aspects of sustainable living (free)
See attached flyer!

HAZARDOUS WASTE RECYCLING DAY for Mercer County
Saturday March 20, at John T. Dempster Fire School, 8am to 2pm (DETAILS)
Located on Bakers Basin/Lawrence Station Road in Lawrence Township.
For more information, call 609-278-8086 or go to www.mcia-nj.com.


"FLOW" film showing
Tuesday, March 23, Student Center Theater, Rider University, 6pm (free)
A documentary about the world's dwindling fresh water supply.
Learn more about the crisis.

BUILD A RAIN BARREL Workshop
Thursday, March 25, Lawrence Community Center, 6:30 to 8:30pm
Everybody takes home a rain barrel; involves a modest fee.
See attached flyer to register! Limited to 25 participants.

"HURRICANE SEASON" by Climbing Poetree
Thursday, March 25, and Friday, March 26
at Passage Theatre (Mill Hill Playhouse) in Trenton ( $30 per ticket)
A play about sustainability and social justice issues in post-Katrina New Orleans.
--- OUR SPONSORS ---

---
2009 EVENTS
Get Your Lawn Off Drugs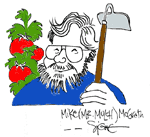 Keynote: MIKE McGRATH, TV & Radio Host and Author
Date: Saturday, March 21, 2009 at 2:00pm
Place: Lawrence High School, Lawrence Twp, NJ
Admission: $7 at the door - Kids are FREE
"Get Your Lawn Off of Drugs": Create A Weed-Free & Safe Lawn – Improve Your Soil - Without Toxics
A fast-paced and hilarious presentation with Q&A that will give you the tools to create rich, organic soil, save money,& create a safer lawn for kids and pets. He will be presenting insights and lively anecdotes on how to grow and maintain a healthy "living lawn" and garden without harmful pesticides. Mike's passion will inspire you to take action this spring.
Admission: $7 at the door. Kids FREE.
Mike McGrath is...
Host of the nationally syndicated Public Radio show, You Bet Your Garden
Garden Editor for WTOP News Radio in Washington, DC
Contributing Editor and columnist for Greenprints magazine
Former Editor-in-Chief of ORGANIC GARDENING magazine
Author of books on Tomatoes, Compost and Kitchen Gardening
If you have lawn and garden questions, you might also check out the the Master Gardeners of Mercer County. They are knowledgeable about a wide range of horticultural subjects and can help you with responsible gardening and pest management.
Also, check out the Lawn and Garden Tips that Mike sent us!
This is event is sponsored by Sustainable Lawrence and its Living Lawns Campaign, which helps improve surface water quality throughout the region.
Co-sponsors include: The Lawrenceville School, PNC Bank, Lawrence Township Public Schools, Organic Green Lawn Care, Kale's Nursery and Landscaping, Lawrence Landscapes, Kuppek Landscaping.
---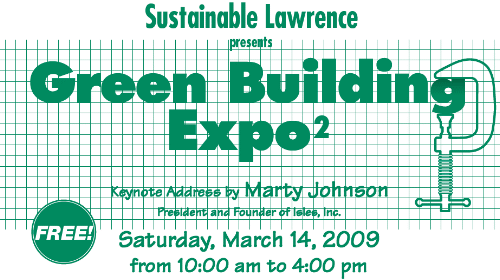 Green Building Expo #2
Keynote:Marty Johnson, Founder and President of Isles, Inc
Date: Saturday, March 14, 2009 from 10:00am to 4:00pm
Place: Irwin Dining Center, The Lawrenceville School off Route 206
Learn the latest environmentally smart ways to fix up your home or small business, add a room, handle repairs, paint or refinish any surface, do ordinary maintenance, and save money. Discuss your needs and plans (with no obligation) with architects, designers, builders, home repair specialists, hardware vendors, and more at this day-long event.
This event is for you regardless of your skill or experience. The day will kick off with a keynote presentation. Other presenters on topics including energy use, green building, landscaping, and more will follow. Exhibitor displays open all day. No reservations – just come. Bring friends and neighbors.
10:00 am Keynote Address
Marty Johnson, Founder and President of Isles, Inc


11:30 am Presentations
Simultaneous Presentations by Experts on Key Aspects of Green Building and Home Energy Management


1:30 pm Presentations
Simultaneous Presentations by Experts on Key Aspects of Green Building and Home Energy Management


10:00 am - 4:00 pm Vendors Marketplace
Exhibits & Displays by Green Vendors
---
2008 EVENTS
The Big GREEN Bus Visits Lawrence Township
Date: August 18, 2008
Place: 2pm to 5pm - QuakerBridge Mall Parking Lot
Admission: Free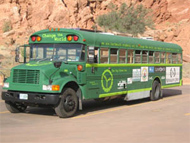 12 Dartmouth students, 1 veggie oil powered bus, 13,000 sustainable miles, all for a greener tomorrow!
In its fourth summer on the road, the Big Green Bus educates Americans about climate change and it's relationship to energy issues, as well as alternative energy. The students promote the adoption of lifestyle choices that conserve energy and take us farther down the path toward sustainability.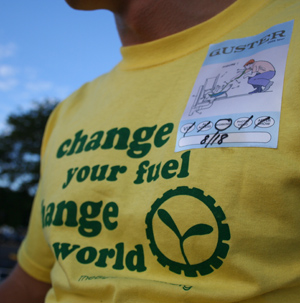 As they travel 13,000 miles around the country through 36 states, the students aim to spark a dialogue about sustainable living, the viability of alternative energy sources, and tangible solutions to local and global energy issues with those we meet along the way.
The ultimate goal of the Big Green Bus is both simple and transformative. Through education and example, the students hope to inspire Americans to reconsider their relationship to the planet and with each other to become more environmentally responsible citizens at home, at work, and in the voting booth.
Come on out and meet these students and learn a little too!
| | |
| --- | --- |
| | Learn how we can can adopt sustainable practices to reduce our energy consumption |
| | See real world examples of businesses and individuals that currently use alternative fuels and operate in an environmentally-friendly manner |
| | Check out the technology that drives the bus: Solar Panels, Inverter, Biodiesel Engine & Filters, Deep Cycle Batteries, and a few surprises that make it fun to ride in (like the energy star compliant flat screen TV and Computers). |
---
In the Headlines:
LAWRENCE -- Ralph Copleman, environmental activist, has a simple first step for anyone interested in greening the Earth, and it is something we all know how to do already: Chill. Relax. Breathe for a moment. Continue...
---
Public Issues Summit on
RESPONSES TO GLOBAL WARMING
Date: Tuesday, April 29, 2008 - 6pm to 9:30pm
Join citizens from the region in a face-to-face dialog on responding to the problem of global warming at the local, national, and international level. Sponsored by the Leadership in Public Affairs program and the President's Climate Commitment Committee at The College of New Jersey. A light dinner will be served. Participation is free and open to all adult residents of the region but seating is limited and advance registration is required. Register online or call 609.771.2706.
---
2008 Maclean House Lecture Series
Going Green? The Science and Practice of Conservation and Sustainability

Select faculty members from various departments at Princeton University will talk about current initiatives and theories on the topics of global warming, energy conservation, and sustainability practices. Each faculty member will interpret this theme according to their own background and research interests, which will result in a variety of interesting and provocative perspectives.
All lectures start at 7:30 p.m. and are free and open to the public. The lectures will be held in the East Pyne Building, Room 010.
Tuesday, April 1, 2008
Greentrofit—The Green Retrofitting Bottom Line for Homeowners
Catherine Peters, Civil and Environmental Engineering


Tuesday, April 8, 2008
Technology and Policy for Living in a Greenhouse
Robert Socolow, Mechanical and Aerospace Engineering

Tuesday, April 15, 2008
The Importance of Carbon Burial in Electricity Generation
Michael Celia *83, Civil and Environmental Engineering
Tuesday, April 22, 2008
Eco-Capitalism and the Power of Worm Poop
Tom Szaky '05 and Jon Beyer '05, TerraCycle, Inc.
Questions? Please contact Kaitlin Lutz, Assistant Director for Alumni Education, at (609) 258-0014.
---
Earth Day at Lawrence Nature Center

Live Demonstrations
Date: Saturday, April 19, 2008
Place: Drexel Ave in Lawrence Township (Route 206 to Fernwood Ave)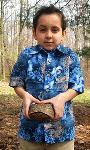 Over a dozen local environmental organizations will be on hand to help The Lawrence Nature Center open its newly renovated building. The Center is located at the end of Drexel Avenue on a site contiguous with the 36-acre Drexel Woods nature preserve. Tours of the building plus live demonstrations and lots of activities for kids will go on all day. Sustainable Lawrence will have a display, too.
Earth Day – the one day each year most of us pay homage and attention to our ultimate home of homes. Come join the celebration and see the new Nature Center facilities.
---
Lawrence Township Stream Cleanup
Date: Sunday, April 6, 2008 from 1pm to 3pm
Place: Lawrence Shopping Center
Meet at Lawrence Shopping Center off Business Route 1, near Burlington Coat Factory across from Romparound where Shabakunk Creek flows along the parking lot. Wear boots, long sleeves. Bring work gloves, if you have them. For more information visit: www.thewatershed.org.
---
Measuring Our Progress
Speaker: RANDY SOLOMON, Director of NJ Sustainable State Institute
Date: Saturday, January 12, 2008 from 9:30am to Noon
Place: Lawrence Township High School - 2525 Princeton Pike
Headlines from event:
Residents of Lawrence Township recently met to discuss the most important trends we should be tracking to achieve sustainability in Lawrence. Randy Solomon, director of the NJ Sustainable State Institute at Rutgers, helped attendees set specific objectives to accomplish.
---
2007 and Earlier EVENTS
How Rutgers Went 'Green'
Speaker: DR. KEVIN LYONS, Rutger University's Director of Purchasing
Date: Wednesday, November 14, 2007 at 7:30pm
Place: Student Center Theater at Rider University (Rte 206 Lawrence)
Learn the story of how Rutgers went "green" under the leadership of Kevin Lyons, the university's Director of Purchasing. Learn how you can make your business or organization, large or small, more sustainable using similar strategies. Hear how businesses, religious communities, and nonprofits are saving big bucks through sustainable purchasing co-ops Kevin has organized across central New Jersey. Kevin's sustainability endeavors also include producing power from trash and growing organic tomatoes indoors. He's a one-man sustainability revolution.
---
Our Faith in a Sustainable World
Speaker: MIRIAM THERESE MACGILLIS, O.P., Founder/Director Genesis Farm Earth Literacy Center, Blairstown, NJ
Date: Wednesday, October 17, 2007 at 7:30PM
Place: The Church of St. Ann at 1253 Lawrenceville Rd (Rte. 206) in Lawrence Township, NJ
For more than a quarter of a century, Miriam MacGillis has traveled the world helping people reclaim their personal faith in a world threatened by global warming, habitat destruction, and the extraordinary ecological challenge facing today's living generations.
From her home on a Blairstown, NJ, organic farm, Miriam brings a message of hope – without minimizing obstacles – based on her profound understanding of Earth's dynamics and the human capacity for innovation, growth, and inspiration.
She reminds us where we came from and how, regardless of our faith tradition, we can re-establish our spiritual connection to the natural world.
---
Full Conference Report
More than one hundred people gathered for three days (March 30-April 1, 2006) to plan an ecologically sustainable future for Lawrence Township, New Jersey.

Read the Report - They produced a comprehensive, long-term agenda, a set of 10 task forces to tackle key items on the agenda, and a series of action plans put forth by the various task forces.
See Photos of the conference.
See Video of the conference.
---