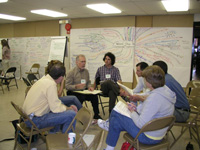 Join the Conversation
What does it mean to Join Sustainable Lawrence?
Sustainable Lawrence welcomes anyone working or living in Lawrence Township, NJ (or anywhere for that matter) to become a part of the cooperative effort to create a more sustainable future for our Township.
Get News about Sustainable Lawrence
If you would like to receive timely notices and news regarding Sustainable Lawrence activities, send us a message now and we will add you to our list.
Join a Task Force
If you are interested in joining a task force, you should contact the Task Force key contact and attend an upcoming meeting. You may also request to join a Task Force using Group Messaging. Group messaging provides task force members with a mechanism for group notices, project status, and internal follow-up. Only members of the group can post material.
Task Force Creation

110 citizens of Lawrence Township, NJ, representing a wide range of stakeholder groups, found common ground at a future search conference entitled "Natural Steps for a Sustainable Lawrence" on March 30-April 1, 2006. The initial task forces on this site are a direct result of the energy and commitment harnessed at that conference. Those interested in starting a new task force should send a message to the Executive Director.