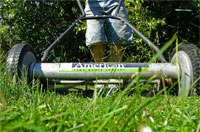 Eco-Tips

Be Sustainable Everyday
Our Mission
To foster full ecological sustainability in every aspect of life in Lawrence Township, New Jersey.
How You Can Help
Drive less, eat locally-grown food, compost, avoid using pesticides, use alternative energy sources, "reduce-reuse-recycle", read up on sustainability, be active in your community. It's easy!
Read and Search our Blog of Over 100 Published Eco-Tips

Tips on how to become more sustainable at home, at work, in school and around town are published at ecotips.sustainablelawrence.org and in the local paper, The Lawrence Ledger.
Check out these stormwater tips from NJ DEP:

Fact: "Nonpoint Source Pollution," or people pollution, is a contamination of our ground water, waterways, and ocean that results from everyday activities such as fertilizing the lawn, walking pets, changing motor oil and littering. With each rainfall, pollutants generated by these activities are washed into storm drains that flow into our waterways and ocean. They also can soak into the ground contaminating the ground water below.
Check out these green lawn tips from Grassroots:

Fact: "Lawn" is the largest single "crop" grown in America in terms of acreage dedicated to it. The next largest crop (corn) doesn't even come close.
Further Information
Learn how easy it is to contribute to sustainability at home, at work, in school and around town by joining a self-study discussion course.