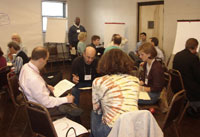 Courses to Take
Self-study Discussion Courses in
Sustainability and The Natural Step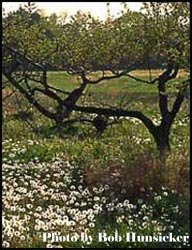 Lawrence Township has turned a page in its history. Together, as a community, we've begun to confront the challenges posed by our Earth's changing ecological conditions.
We've already made solid progress over the last decade in recycling, farmland preservation, Main Street revitalization, and natural land preservation, and now we can take further, powerful steps.
ANNOUNCING seven easy, inexpensive courses that groups of Lawrence residents can conduct themselves, in their own homes to learn more about environmental challenges and the specific steps any person or family can take to reverse negative ecological trends and make life healthier and more satisfying.
Healthy Children - Healthy Planet
This course takes a deep look at the influential presence of advertising, media and the consumer culture in which we live and how it affects our children. Two dozen short articles show parents and guardians ways to spend more meaningful family time and create a healthy, beneficial environment for their children. Reading topics include cultural pressures, technology and the media, food, health, and ways to explore nature. Course participants will learn about parties without presents, educational computer programs, and ways to limit television time as they move to a more enriched, sustainability-focused lifestyle. "Healthy Children- Healthy Planet" is an excellent discussion course for those who are interested in embracing a wholesome way of life for their children in the midst of a consumer-driven society. [Eight sessions]
Discovering a Sense of Place
Can you identify the bioregion in which you live? Can you name the plant and animals native to your hometown? This eight-session course is for those interested in understanding the bioregional perspective and what it actually means to develop one. Learn the difference between living on the land and living with it. The development of an intimate sense with one's place can cultivate a richer understanding and a feeling of responsibility. Learn ways to protect, care for, and enjoy your own bioregion. Participate in creating a bioregional map. See how watersheds, plant types, animal species, climate and human culture play a role in shaping and changing the place where you live. [Eight sessions]
Voluntary Simplicity - Take a plunge into simplifying your everyday life. Explore misconceptions and erroneous assumptions about "the simple life" and learn about the long history of this concept in religion and philosophy. Living simply (and cheaply) while immersed in a culture of competitive economic gain and materialism flourish may not be easy, and this course provides tools to overcome the many psychological distractions. Learn how others are "living more with less". Course readings include "Your Money or Your Life?" and "Do You Have the Time?" which allows readers to assess their own lives and lifestyle. Participants will finish the course with a feeling of hope as well as the practical knowledge of how to move toward a simple, yet satisfying lifestyle. [Eight sessions]
Choices for Sustainable Living
Explore the real meaning of the term sustainability. See how your lifestyle choices can have a huge impact on Earth. Look at the impact of economics, community, shopping patterns, eating habits and more and their connection to our ability to live sustainably. Course readings touch on all of these facets of life and take on sustainability on multiple levels: society as a whole, the community, and the individual. Learn how people and organizations around the US are making a difference in how we live and on the well-being of the natural world. This is a course that guides you through a personal exploration of your own way of life and the character and impact of our collective behavior. [Nine sessions]
Globalization and Its Critics
This course study takes you through six different perspectives on globalization, the world-wide economic and political phenomenon with extended impact the way we live. What is globalization's real meaning, and how is it affecting our ability to live rewarding lives in sustainable communities? Unpack the structural aspects of globalization and see how it affects food production, environmental quality, law, social justice, tax policy, and local cultures around the world. Since the topic is so expansive and broad, this course aims to promote discussion and study. Participants will learn how their own personal choices can either promote or counter globalization. [Nine sessions]
Exploring Deep Ecology
This course helps people take a clear look into our values about our relationship with Earth. Participants will understand how closely connected we all are to the natural world and the importance of replacing of economic growth as our dominant mind-set with ecological sustainability. Readings explain new discoveries in physics, biology and cosmology and their relevance to the way we look at our Erath-human connection. The course highlights the benefits of living a more simple life, detached from the distractions of materialism and technology. Exploring Deep Ecology will allow you to evaluate your own personal values as well as explore what actions you can take to care for the earth. [Nine sessions]
Global Warming: Changing Course
This discussion guide focuses specifically on climate change. It provides an opportunity to explore actions and personal lifestyle in relation to global warming and your own "carbon footprint". The course discusses history and science behind global warming and breaks down the role that society has played in the deterioration of land, water and eco-systems. Articles throughout the booklet focus on new strategies to reduce atmospheric damage and cut carbon emissions. You will gain insight into how other people are experiencing the effects of global warming. Specific topics include a focus on our ability to respond to what Al Gore has called a "planetary emergency". The sessions investigate ways to engage more of us in sustainable behavior and to allow future generations to meet their own human needs. [Four sessions]
How the Program Works
Anyone who wishes can sponsor a small-group discussion course in their home, church, or workplace (perhaps over lunch) on sustainability and/or The Natural Step. Contact Sustainable Lawrence and we will set you up with a list of course descriptions, instructions, and information helpful in sponsoring the course. Most courses are a series of eight or nine sessions. Participants learn together and later support each other in adapting their lifestyles to incorporate important learnings.
Created by the Northwest Earth Institute of Portland, OR, these courses have been used buy over 20,000 Americans, in groups of 8-12, since their inception in the 1990's.
Who Can Do This?
You do not have to be an expert on sustainability at any level to do this. You just have to be willing to learn. This is ideal for families, church groups, clubs, neighborhoods, workplaces, etc.
Cost
The only cost is the price of a book*, usually $15.00 per person, plus shipping. Each participant will need her or his own copy. There are no other fees.
Our Purpose: Why We're Doing This
Sustainable Lawrence wants everyone in town to understand ecological living practices. We promote the application of The Natural Step Framework to all aspects of life as an efficient, equitable way for a community like ours to move steadily toward genuine sustainability.**
Your course will put tools you need to live an ecological and satisfying lifestyle right in your hands. It will also provide you with an instant "support system" for making changes in your practices. (Researchers have found a core group of friends, colleagues, or family members is one key to making important changes in life.) Picture yourself in comfortable surroundings learning new ways to have a satisfying "green" lifestyle shared by people you know and trust. Be aware that this will be happening all over Lawrence Township.
How to Get Started
Choose a course you'd like.
Consider a period of the calendar when you'd like to arrange a course for you and others.
Contact Sustainable Lawrence, and tell us your course choice. We will help you acquire the right materials, show you how to gather your group, and show up at your "kick-off" meeting to answer questions.
*All books used in this program are printed with soy-based ink on 100% recycled paper.
**Sustainability is (as defined by the Brundtland Commission established by The UN in 1987): "...development that meets the needs of the present without compromising the ability of future generations to meet their own needs."
Note: Course descriptions compiled by Meagan Terry, March 2007.