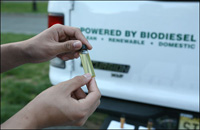 Activity Map
Tell us your Sustainability Story!
We want to hear how you have made your home, office, school, or town more sustainable. Share a photo if you have one. Email us the details at director@sustainablelawrence.org.
Sustainability in Lawrence Township Public Schools
Read what's happening.
Watch this ABC video of how one resident in Hopewell, NJ has gone off the grid with hyrdogen power.
No story is too small
Have you placed a rain barrel in your garden? Are you composting? Have you installed solar panels? Are you riding your bike to school every day? Did you replace your incandescent bulbs with flourescent ones?
How to Get Involved
Sustainable Lawrence has organized task forces of local citizens, each working to make an important aspect of life in Lawrence Township more sustainable. You can help advance the success of these groups by signing up for the task force of your choice.
Contact a Task Force Today
Landscapes
Lawrence Living Economy