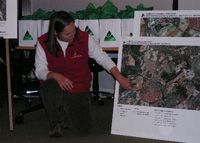 Town Center-Transport
Task Force Description
We envision Lawrence Township with multiple town centers, each with its unique combination of offices, homes, stores, and civic entertainment functions, offering a large portion of the Town's population the opportunity to spend time in their own neighborhood without having to travel long distances.
Action Items & Goals
Town centers will be:
Mixed use developments
Human in scale, (welcoming, vibrant, meeting basic needs)
Pedestrian and bike-friendly
Serve as transportation hubs
Green construction
Safe
Town square/Green for gatherings
Public Transportation will be:
System of local and regional services
Local routes connect neighborhoods to town centers, schools, etc.
Regional Routes are part of Mercer Middlesex Rapid Transit (BRT) system.
Connects to route 1 centers (employment), Trenton, Princeton, train stations (Trenton, Hamilton, Princeton Junction).
Town centers include attractive and convenient BRT stations.
Vehicles are fully accessible and zero or near-zero emissions.
Fare collection is electronic (Like EZ pass) and low cost.
Roads retrofitted to allow BRT to bypass congestion and provide competitive travel times.