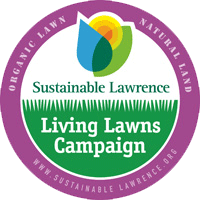 Living Lawns Campaign
Join Sustainable Lawrence's
Living Lawns Campaign Today!
THE GOAL

All lawns in Lawrence Township completely free
of toxic pesticides, fertilizers, herbicides, and fungicides
The Purpose
Protect surface water quality in local streams and run-off.
Provide a less-polluted local environment for children and pets.
Create healthier living environment throughout the township.
Save money.
CURRENT OBJECTIVE

One-third of all lawns in Lawrence Township free of toxics
by June 2011

Living Lawns VIDEO
Watch interviews with citizens who have chosen to grow their lawns and gardens without pesticides.
DID YOU KNOW?
In the US, we grow more lawn grass than any other "crop", in terms of number of acres planted. The amount of fresh water we waste and the quantities of poisonous chemicals we spread are incalculable.
None of the grass we grow in our yards is native. Grass is native only to small sections of the upper Midwest.
Watering your lawn at night does almost no good, wastes water.
Key information about the best way to grow and maintain a healthy, good-looking lawn is just a mouse-click away.
Join the Living Lawns Campaign today because you'll…

Help clean up your yard and neighborhood
Have a healthy, rich-looking lawn
Protect your family and our local water resources
Save money
Here's What To Do
Take the Living Lawn Pledge by agreeing to permanently maintain a natural, toxin-free lawn beginning this year.
Practice the proven methods of keeping a healthy lawn and garden,
- OR -
Maintain a so-called "Equal Opportunity Lawn". Let anything grow there and put nothing on it. Mow it to no less than three inches and just let it be.
Proudly display the Living Lawns Campaign sign on your lawn where everyone can see it. It's your "Seal of Approval" from Sustainable Lawrence.
To get your LIVING LAWNS CAMPAIGN sign, contact us.
It's free for township residents and we deliver locally!