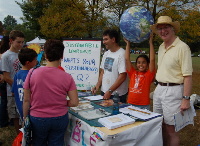 Seven Easy Things
Our "SET" of Steps you can take to make an immediate impact, help save the Earth, and certainly save money.
1.
Lower your thermostat one degree (or more) in winter.
2.
Eat locally produced food. Use less meat products.
3.
Replace old-fashioned light bulbs with CFL's
(Compact Fluorescent Lights).
4.
Drive your car less: walk, bike, carpool, use mass transit.
5.
Turn off lights in unoccupied rooms.
6.
Drink tap water instead of bottled water.
7.
Teach children and teens to abide by these practices.
Do them as a family.