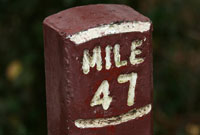 Milestones
Sustainable Leaders
Led other like minded towns in the establishment of Sustainable Jersey, a statewide certification program that developed a green road-map for sustainable actions.
Lawrence was among the first towns certified for two years in a row
We earned the Leadership Award in 2010, for our contributions to the program.
We were recognized by Project Porchlight as a Change Leader for our volunteer involvement in 2010. Over 100 volunteers distributed more than 1500 free CFL light bulbs throughout town in three community "blitzes".
Schools
Lawrence was the first district in the state to install solar panels in every school.
Sustainable Lawrence led the first Green Jobs Academy program for high school juniors. This new program will provide opportunities for the students to choose a career path and apply for a Summer internship.
Projects are underway at two schools to reclaim courtyards for food production, recycled sculpture gardens and habitats for local wildlife.
Government
We participate in the "Green Team", an official advisory committee promoting Sustainable New Jersey actions. As part of this program:
Energy audits were conducted in all public buildings. Energy retrofits were done in our Senior Center, Town Hall and Community Center. We also built an energy efficient Police Headquarters.
A complete inventory of our Public Works vehicles led to retrofits to increase efficiency, reduce emissions and begin a hybrid fleet purchasing program.
Incorporated a Sustainability Element for its Master Plan in order to establish sustainable principles and practices for growth and development.
Adopted the "Complete Streets Plan" as part of the Master Plan. Complete Streets enable safe access for pedestrians, bicyclists and public transportation as well as individual vehicles.
Open Spaces and Farms
25% of our land is protected from development. 14 farms in town now produce everything from local produce, meats, and cheeses to nursery plants and even llamas.
60 acres of land were turned into our Nature Center, housing bee hives, a "chimney swift" tower, a butterfly garden, a rain garden, native trees, and becoming a gathering place for nature lovers and an educational facility for conservation programs.
Businesses
With over 800 businesses in our town, we promote the Lawrence Rewards Card program to encourage local spending in return for points that can be redeemed throughout the town.
Over 80 residential and business solar panel arrays have been installed in town, including the first solar powered beauty salon in the state.
Our Green Expo highlights local businesses that focus on renewable resources and energy conservation and includes displays of a wide variety of products and services.
Community
Sustainable Lawrence's SWELL (Sustainable Where we Live in Lawrence) program, reaches out to the residents offering over 150 free workshops and educational programs.
The Living Lawns Campaign also offer incentives for residential water conservation and organic lawn care.
We work with local HOAs to improve their grounds care practices.
Over 1500 residents have signed up for our Five Pack Pledge; a program to promote reduction in energy consumption, local food, recycling, and community building through sharing.
Volunteer groups work together to help neighbors install insulation, replace light bulbs and complete weatherization projects.